I hope you are well. We are living in interesting times. James and I have been bunkered down for the duration and working from home. We are discovering the wonders of digital communications and have been meeting with our clients via Zoom along with delivering short training presentations. As usual, we remain available to support our clients. McQuaig Online is still up and running and ready to support your recruitment needs. It is business as usual on our end. Here are a few tips from us with regard to any hiring needs you may have in the coming months.
Protecting your staff and minimising exposure to unnecessary risk is vital even though the virus appears to be under control. You do not want your business to become the location of an infection cluster. To this end there are a number of things you can do to mitigate the risk of contact with contagion.
Conduct your screening online. You can screen candidates using The McQuaig Word Survey (WS) and The McQuaig Mental Agility Test (MMAT) to identify candidates with the right potential. You can also conduct Telephone Screening Interviews using the Interviewing Questions from The McQuaig Job Survey to ensure you are asking the right questions of all candidates in order to trim down your list of applicants to the most suitable ones.
Conduct your First Round Interviews Online Conduct your first round interviews with Skype, Zoom or some other video platform rather than in a face-to-face setting to gain further insights into your candidates. Use the Interviewing Questions from the candidate's Word Survey Report to probe critical areas and investigate any Red Flags the report may highlight. To do this, you can run the Job Fit Interview Guide and use those questions to keep you on track for an effective interview. The Job Fit Interview Guide is run by comparing the candidates profile to your Ideal Profile as identified by the Job Survey.
If you are planning on using online video, our next blog, to be posted tomorrow, should be of interest to you.
Meeting a Candidate Face-to-Face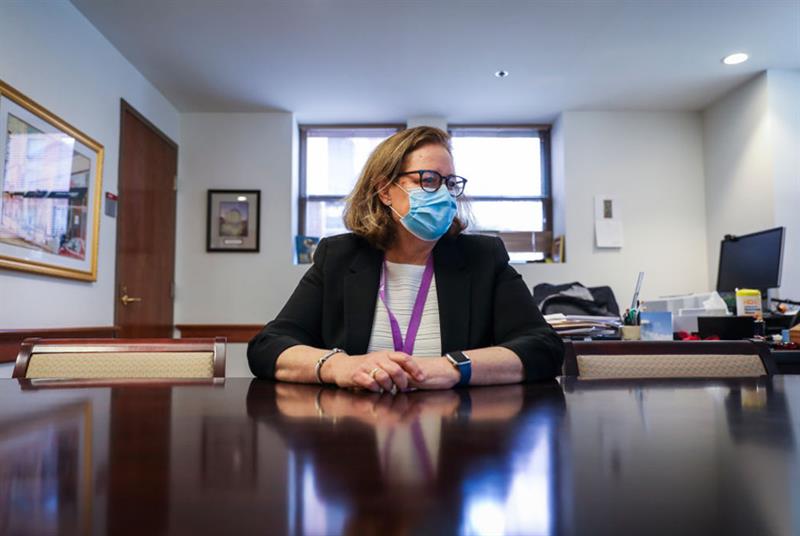 You may find it possible to conduct further rounds of interviews online before you have to meet the finalists in person. When you finally have to meet the candidates face-to-face you should observe the best hygiene protocol to ensure the wellbeing of your Interview Panel and your Candidate. Send your candidates a copy of your company's Hygiene Protocol for the interview in advance of the interview so that they will not be put off on the day. Ask the candidate to confirm that they have read and accepted the protocol and that they are not a hygiene risk themselves, as in they are not showing any signs or symptoms of virus infection.
Maintain proper personal hygiene, wash your hands and keep a safe distance of 2m minimum for all participants in the interview, including the interview panel members. Remember that Social Distancing is even more important where a face-to-face conversation is to take place in an enclosed environment like an office or a boardroom. Have Hand Gel readily available.
Try to conduct the interview in a secure environment close to the entrance of your offices, so the candidate does not have to travel through the building, where they may come into contact with other staff. Avoid handshakes or other physical contact with the candidate. Make it clear to the candidate that this is as much for their own safety as it is for your own.
Ensure that all documentation required has been printed in-house and has not had the opportunity to become contaminated. Ask your candidates to email all relevant and supporting documentation a day or two in advance of the interview, as printed documentation on the day will not be accepted. If original documentation is required, have disposable latex gloves available to handle it and return it to the candidate or accept photographs of original material via email.
Make sure that all members of your Interview Team are in their full health and are not in any of the vulnerable categories. Appoint suitable substitutes if necessary. Try to minimise the number of members in your interview panel on the day. Consider 3 to be a maximum.
On completion of the interview, escort the candidate to the door and thank them for complying with your hygiene security protocols. Remember to follow the Hygiene Protocol for cleaning the office afterwards and before the next candidate arrives. Leave plenty of time between interviews.
Be safe out there. Many of our clients have informed us that they are not currently recruiting, or have suspended recruitment activity for the present. However, as it is expected that the risk of infection will remain high for several months to come, it is inevitable that you may have to fill vacancies due to illness or normal staff turnover in the near future. We hope that these pointers will help you to prepare for such occasions.
As always, if you wish to discuss any aspects of your recruitment and selection at this time, feel free to give either of us a call.
            Cormac McGrane – 086 3863205
            James McGovern – 086 3800739